When: 28/02/2022 – 6:30 PM (CET)
AHA Lëtzebuerg organises a webinar with Kato MUKASA titled "Organized Humanism in Africa: Status & Hope".
In this talk, held in English, Kato will be drawing from two of his more recent books: The God Business and the Death of Reason in Africa (2021), and: Modern Humanism, and How to make it work for the People. He will explore the history of religion in Africa, both traditional religions and those imported by colonists, and the effect that religion has had on the lives and the thinking of people in Uganda and further afield throughout Africa. Kato will also talk about his view of practical Humanism, how it should not be restricted to conferences and lecture theatres but be taken to the grassroots where it can be seen in action. Modern Humanism is more concerned with activism and there are several ways through which Humanism can be made more relevant.
Bio
Kato MUKASA is a Ugandan lawyer; he is the Executive Director of Legal Relief Frontiers (LTD), a non-governmental organization which provides legal relief services to the poor in Uganda. Over the years, in his practice as a lawyer, he has handled human rights cases which involve supporting LGBTQ rights, abused children, rape victims and victims of land evictions among others. He has espoused these views on local media and has a number of published books, such as Challenging the myths about homosexuality.
Kato is also a humanist in a country where only 0.2% of the population identify as non-religious. Having had a keen interest in religion in his early teens, he was eventually expelled from his Catholic high school for refusing to attend mass.
He is the chair of Uganda Humanist Association the oldest Humanist organization in Africa, and a former member of the board of directors of Humanists International.
In 2007 he co-founded the Humanist Association for Leadership, Equity and Accountability to promote critical thinking and human rights. Its monthly campus discussions are attended by people of faith and non-believers. It also sponsors students and assists young mothers in acquiring entrepreneurship skills, among other programs. He is the founding director of Pearl Vocational Training College and Pearl Mukasa Memorial High School, schools which provide education to the marginalized urban and rural poor, young mothers, and needy students.
Sadly, and it is perhaps not surprising in a very traditional and religious country, views such as these have made him the target of attacks.
Register in advance for this webinar:
https://us06web.zoom.us/meeting/register/tZUtcuqprTkqEtGG55PgSU6cmhtCOrDqgApY

After registering, you will receive a confirmation email containing information about joining the meeting.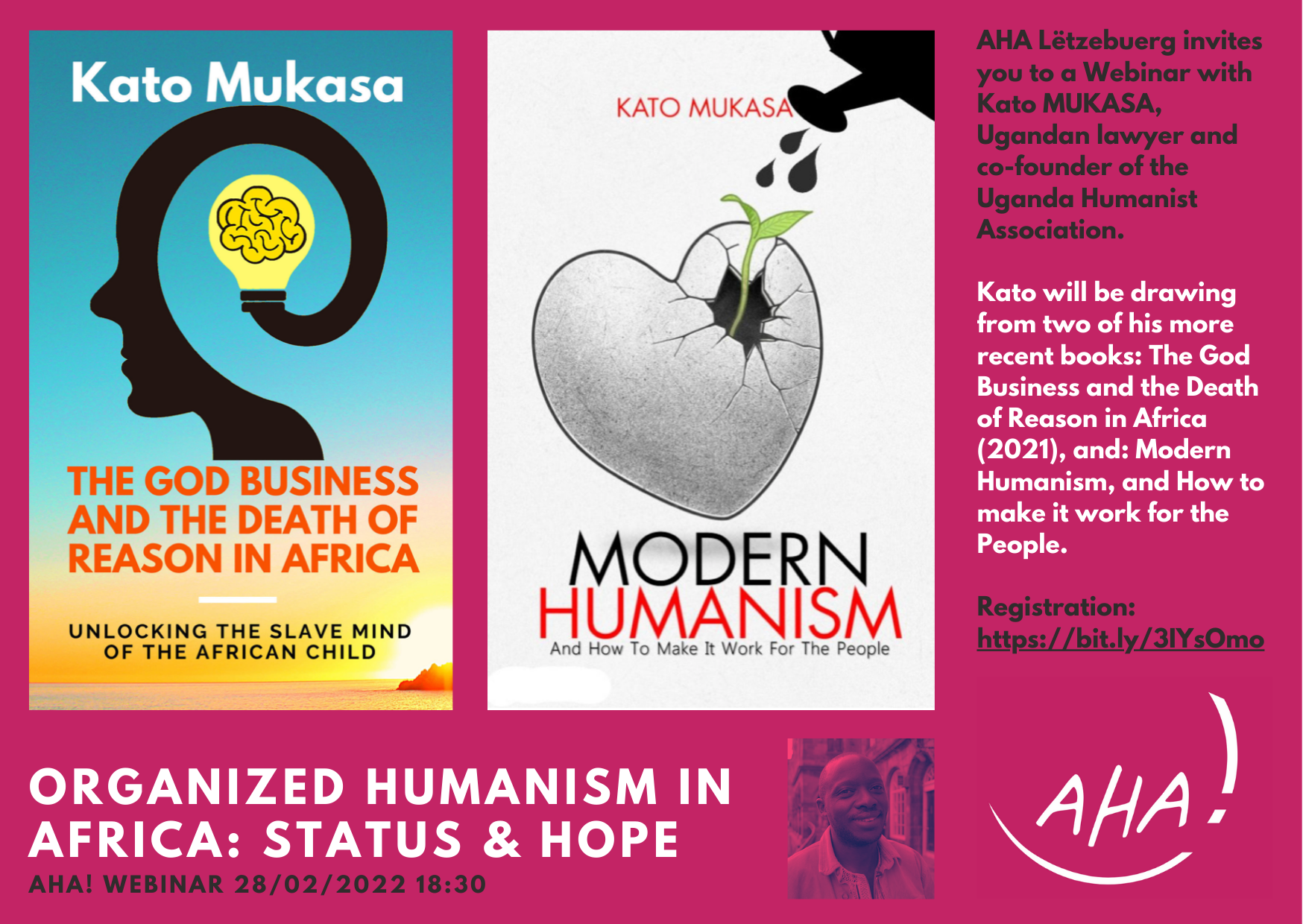 Here you can visualise Kato's slideshow and the recording of our session.